Fiesta at McAllen Convention Center
The McAllen Convention Center hosted its 8th Annual Administrative Professional's Day luncheon and fashion show, and for the 4th consecutive year, our BK360 team was there to create a suite of materials to bring events planners and marketers together.
Program design: Black Koi 360 Design Studio
Administrative Professional's Day at the MCC is a day of celebration and pampering. It is our business community's way of thanking those who help us with our day to day operation. The event includes a lounge and pampering area where both ladies and gents can try various beauty products and fashions, mingle prior to the main event, and take photos at the always prominent photo booth--this year Le Vintage Photo Booth introduced boomerang effect with GIF social media share options.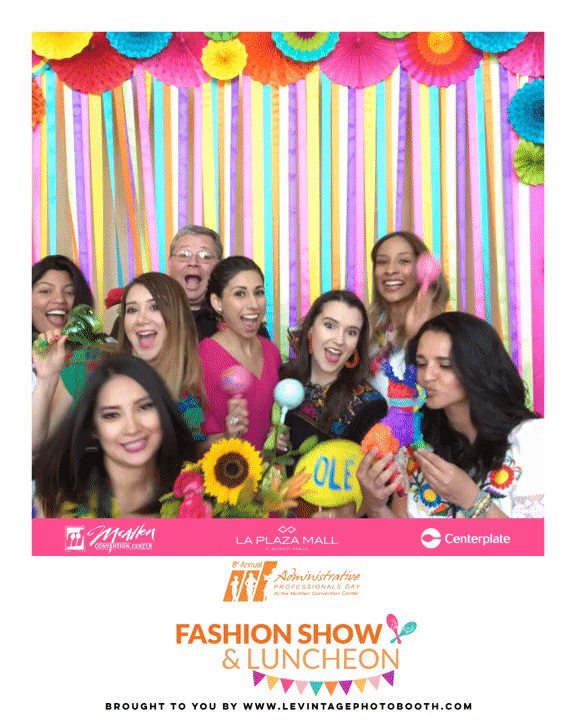 MCC Staff. Image: Le Vintage Photo Booth
The event attended by approximately 400 people on an annual basis, features a themed luncheon by Centerplate, followed by a fashion show presented La Plaza Mall - a Simon Property. The event culminates with the announcement of the Administrative Professional of the Year.
Our task for the past few years was to bring the different teams together under one theme proposed by the event planners. This year, MCC wanted to throw an authentic fiesta with the food, decor and print materials to match.
Initially, we thought about using papel picado as our inspiration, but opted for something more colorful and playful -- the beautiful hand-made embroideries of Mexican artisans featuring a wide array of flowers and birds.
Using a seamless pattern, we then designed materials for both, digital and print use.
#McAllenConventionCenter #admindaymcallen #print #graphicdesign #McAllen #BK360 #Centerplate #LeVintagePhotobooth